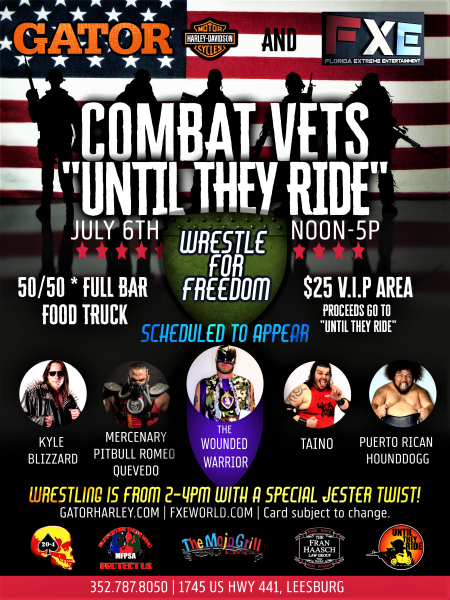 Address
1745 US-441
Leesburg
FL 34748
July 06, 2019 12:00PM - July 06, 2029 5:00PM
The event starts at 11am with a DJ playing all your favorites under The Fran Haasch Law Group Pavilion. The Combat Vets "Until They Ride" will ride in at noon. Michael McGrath, founder of "Until They Ride" will open the ceremony with the Pledge of Allegiance and guest speakers to follow.
Fillin Good food truck will be here along with a full bar.
Come join the MFC West Central Chapter  (Military FireFighters Cops) as they will be running the downstairs bar at this event. Proceeds from this event will go to support the Gary Sinise Foundation, and the Snowball Express.

WRESTLE FOR FREEDOM IS FROM 2-4PM
FREE GENERAL SEATING (INCLUDING RING SIDE)
$25 VIP AREA (Only 40 tickets available for VIP)

-VIP AREA-
Tickets for VIP is $25.00 which includes (2) complimentary cocktails or beer/wine. Mojo Grill will be supplying chips, salsa and gringo queso.  VIP ticket sales will go to "Until they Ride" and can be purchased by stopping in at Gator Harley. See Tom for ticket sales. There will only be 40 tickets sold for VIP. The Full bar upstairs in the VIP area will be ran by the MFPSA  Military Fire Police Support Association. The VIP area is upstairs where you will be overlooking the Wrestling Matches from the balcony.

Mojo Grill will be supplying (5) $10 gift cards as door prizes.  Sign up to win a basket of fun from Keller Williams Elite Partners IV Realty and Gator Harley-Davidson.

FXE – Florida Extreme Entertainment is planning an amazing "must see" Wrestle for Freedom" event.

Scheduled to appear:
 Kyle Blizzard , Mercenary Pitbull Romeo Quevedo, Taino, Puerto Rican Hounddogg .
Special guest from the Combat Vets is their very own Troy aka The Wounded Warrior.  Troy has been wrestling since he was 14 years old.

Thank you to our Sponsors, Fran Haasch Law Group, Mojo's Grill Leesburg and MFSPA.
Back to previous page